Posted by Declan McGrath on 01 December 2014.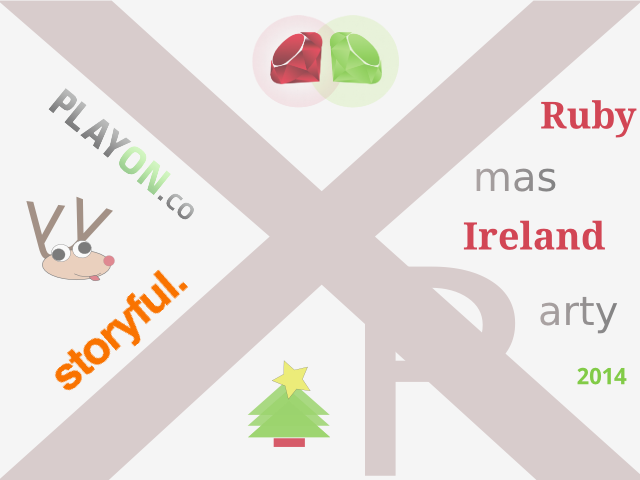 It's the last meetup of the year and thanks to Storyful and PlayON.co it is going to be a cracker! We've got talks on the challenges of scaling architecture, as well as how to use RabbitMQ with Rails to build a social feed switchboard. And not only are they putting up the speakers but they're also putting their money where their mouth is by sponsoring, not one, but two end of year parties! It all happens on the 11th of December at Engine Yard (thanks!) and here's the schedule…
| | |
| --- | --- |
| 6:00-6:45pm | Pre-meetup party at Slattery's bar, sponsored by PlayON.co (directions) |
| 7:00pm | Doors open at Engine Yard |
| 7:20pm | Talk 1: Challenges of Architecture and Scaling at PlayON.co by Killian Jones |
| 7:50pm | Talk 2: Building a social feed switchboard using RabbitMQ & Rails at Storyful by Tony Byrne |
| 8:45pm-late | After party at Ely HQ, sponsored by Storyful (directions) |
As usual, there will be RubyMine licences up for grabs. So close out 2014 in style. You know all you want for Christmas is make it down to our end of year bash and meet your fellow Rubyists! And help us out by hitting the RSVP button…
Posted by Declan McGrath on 01 November 2014.
As we're past Halloween and now rolling into the final stretch of the year, it's a good time to look back on a few highlights in 2014. So far we've had 8 meetups, a total registered attendance of 505 members across meetups and 7 sponsors. Now admittedly, not every single registered attendee turned up to each actual meetup. But judging by the amount of pizza wolfed down plenty of them did! So here we take a look at one of the companies who have made the pizza happen - sponsoring the meetup time and time again – thank you Qstream.

Given the concentration of tech companies near Barrow Street you'd be forgiven for forgetting that another world exists out there. But if you're a bit of a foodie you'd likely be drooling at the mouth if your boss told you that you're about to be relocated to Ranelagh. Fortunately for Qstream, that's where they are already. With more restaurants to check out than a front end dev has Javascript frameworks to choose from, avoiding the "Ranelagh Stone" is probably the only concern. So how do they earn their (delicious Italian) bread? Qstream is a platform to manage and measure the strength of a company's sales team. To do this sales reps are engaged in entertaining, scenario-based challenges, which are related to their sales efforts. These challenges are sent to their mobile device regularly. Based on their responses, the sales reps get feedback on inaccurate answers and also appear on a leaderboard with their peers.
Though you're probably more interested in what their engineers think. They're raving about what's perking their interest at the moment - mining giant sets of data, gamifying enterprise apps, building the smarts into the Qstream coaching engine and moving towards microservices. They're a Rails based shop and have their hands in the familiar such as MySQL and Unicorn, as well specific tools for specific jobs – calling upon Postgres, Redis and Node. And they are looking for fresh blood to join their team.
Speaking of fresh blood, hope ye all had a good Halloween. Now go and change your desktop background back to something more sensible and get back to your hackin'. Until the next free pizza…
Posted by Declan McGrath on 15 October 2013.
We've had a lot of different sponsors behind Ruby Ireland over the last few years. One notable addition to that list is SageOne, who have super generously stumped up the cash for the pizza bill at each of the last meetups and continue to do so. No mean feat, given that the size of has been trending upwards as 2013 rumbles on! We thought it would be timely to see what their backstory is and how Ruby is used within SageOne.

First, it's probably good to give a heads up on what the SageOne is. SageOne is Sage's suite of cloud accounting and payroll products, run as it's own unit within Sage. Being cloud oriented, SageOne has its own ways of working and processes. So expect developer-friendly words like Scrum, Git and TDD - along with a focus on UX and an upbeat tempo - as opposed to chasing waterfalls! Jean Vecchia the Product Development Manager at SageOne explained a little more about their Ruby operation and why they're putting so much sponsorship into Ruby Ireland.
"We have been developing Ruby applications for over 3 years and it is our chosen technology for our cloud based solutions. During that time we have learnt a lot (some things the hard way!). Up to now we have had our own Ruby community across the Sage Globe (IRL, UK, US, Canada, Germany Spain, France, and more) but we want to share that knowledge outside of Sage, as well as being really interested in how others are approaching software development. It's a great way to stay current and at the same time give something back including pizza! We're currently hiring Ruby devs and Ruby Ireland is a great place to meet them. If you want to know more come over and talk to me at the meet ups or drop me an email jean.vecchia@sage.com"
SageOne developer Kevin Browne will be sharing lessons learned from reimplementing an existing DSL in Ruby at this Tuesday's meetup - Ruby Rules! If you want to come along please RSVP at the link which gives Jean an idea of how much pepperoni to set aside for the evening :-)
Hopefully, after reading this you now have a little more insight into what difference the "One" on the end of SageOne means. A big thanks to them for the sponsorship of Ruby Ireland and helping ease the logistical pressures on the organisers!
Factfile
How many people are the in SageOne based in Ireland? In development there is 11, and we currently looking to take on 8 more
How many Ruby developers are there at SageOne? Currently 5, adding 6 more of which 2 will be leads.
What's the typical team makeup in SageOne? We follow scrum so our teams are made up of BAs, Developers and Testers all sitting and working together. Outside of this we have a UI/UX designer float in and out depending on our needs. We don't have set team sizes, we flex up and down as we are all about doing what makes sense.
What languages are in use at SageOne? Ruby, JavaScript, as well as good ol' HTML and CSS
Do SageOne do Continous Delivery? Yes!
Total sponsorship of Ruby Ireland to date? 3 nights of pizza, €900+